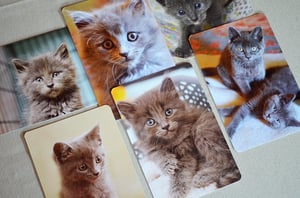 $

10.00
Featured in this set of six postcards are some of our all-time favorite gray kittens fostered by the Itty Bitty kitty Committee: Langston Von Tussel, Hazel Swift, Thelma Lyttelton, Lucille Plunkett, Fielding Mittenfloss, and Forrest and Pearl Mae Petrie.
You have the option of purchasing the postcards with or without envelopes.
Who are the adorable kittens on these cards?
The kittens come from our local shelter -- The Humane Society for Tacoma and Pierce County. We foster these babies until they reach an adoptable age, then find them wonderful homes. We chronicle our adventures on the Itty Bitty Kitty Committee blog.
About the cards:
The postcards are a nicely weighted stock with rounded corners and a lovely satin matte finish. On the back of the card there's a tiny photo of each kitten and their name too, so you know who is who.
All images were taken by photographer and kitten wrangler, Laurie Cinotto.