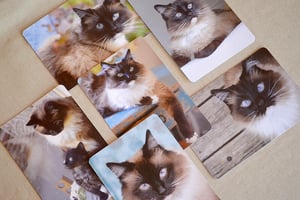 $

10.00
The lovely cat featured in this postcard set is the one and only Charlene Butterbean of Itty Bitty Kitty Committee fame. In this set are six different images of the pretty girl and they feature her mighty whiskers, beautiful blue eyes, and her glorious floof. She's a stunner, isn't she?
Charlene is a special girl and lends a paw to help us raise foster kittens in our Tacoma, Washington home. The kittens come from our local shelter -- The Humane Society for Tacoma and Pierce County. We chronicle our adventures on the Itty Bitty Kitty Committee blog.
About the cards:
The postcards are a nicely weighted stock with rounded corners and a lovely satin matte finish. On the back of the card there's a tiny photo of the featured cat along with their name.
You have the option of purchasing this set of cards with or without envelopes.
All images were taken by photographer and kitten wrangler, Laurie Cinotto.