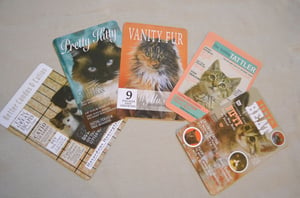 $

10.00
In this postcard set, you'll find five covers of delightful cat and kitten-themed magazines:
Better Condos and Catios (featuring Sally and Evelyn Hollis)
Pretty Kitty (featuring Charlene Butterbean)
Vanity Fur (featuring Wylla Stout)
Kitten Beat (Featuring Audrey Stout)
The Tabby Tattler (Featuring Jimmy Tipton)
You have the option of purchasing the postcards with or without envelopes.
Who are the adorable cats and kittens on these cards?
The big kitties are our permanent resident cats, Charlene Butterbean and Wylla Stout.
The kittens come from our local shelter -- The Humane Society for Tacoma and Pierce County. We foster these babies until they reach an adoptable age, then find them wonderful homes. We chronicle our adventures on the Itty Bitty Kitty Committee blog.
About the cards:
The postcards are a nicely weighted stock with rounded corners and a lovely satin matte finish. They measure 4" x 6"
All images were taken by photographer and kitten wrangler, Laurie Cinotto.